GST related books are showcased here with the consent of the authors. The purchase link of the original publisher of book's website has been given here for facilitating readers to buy it. The display of the books is to suggest readers the best books to buy on GST. Please mention in remarks about OTU -this website when you place the order.
---
Authored by CMA Anil Sharma, B.Com (Honrs), M.Com, FCMA
Index of the book:
1) Accountants and their challenges under GST
2) ITC: Seamless flow endless restrictions
3) Ease of doing … courtesy Lucknow (Lukhnau)
4) GST: Sections not enacted: (Part:1/1)
5) GST: Sections not enacted: (Part:1/2)
and more….
Price: Rs. 300/-
---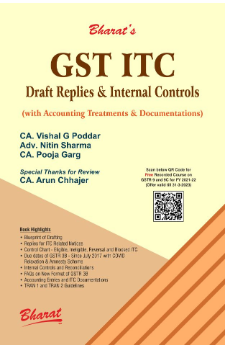 Book Title
Published on: 2022
Authored by CA Vishal Poddar, Adv. Nitin Sharma, CA Pooja Garg.
About the book
Chapter 1 Introduction
Chapter 2 Blueprint of Drafting
Chapter 3 ITC related notices and draft replies
Chapter 4 Control Chart — Eligible/Ineligible with Reversal and Blocked ITC
Chapter 5 Due dates of GSTR 3B
and more….
Price: Rs. 995/-
Bharat Laws Member price: 895/- (10% Discount)
Taxscan Price: 796 (20% Discount)
---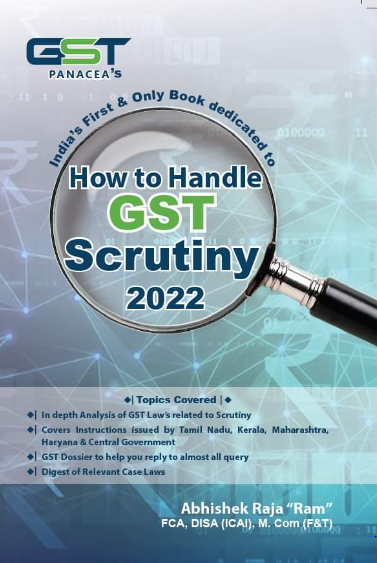 Book Title
How to Handle GST Scrutiny 2022
Published on May, 2022
Authored by CA. Abhishek Raja "Ram" FCA, DISA (ICAI), M.com (F&T)
It contained topic like
Assessment
Demands and Recovery
GST Scrutiny decoded
Digest of important case laws
Role of tax professional in GST
and many more
Price Rs. 1000/-
---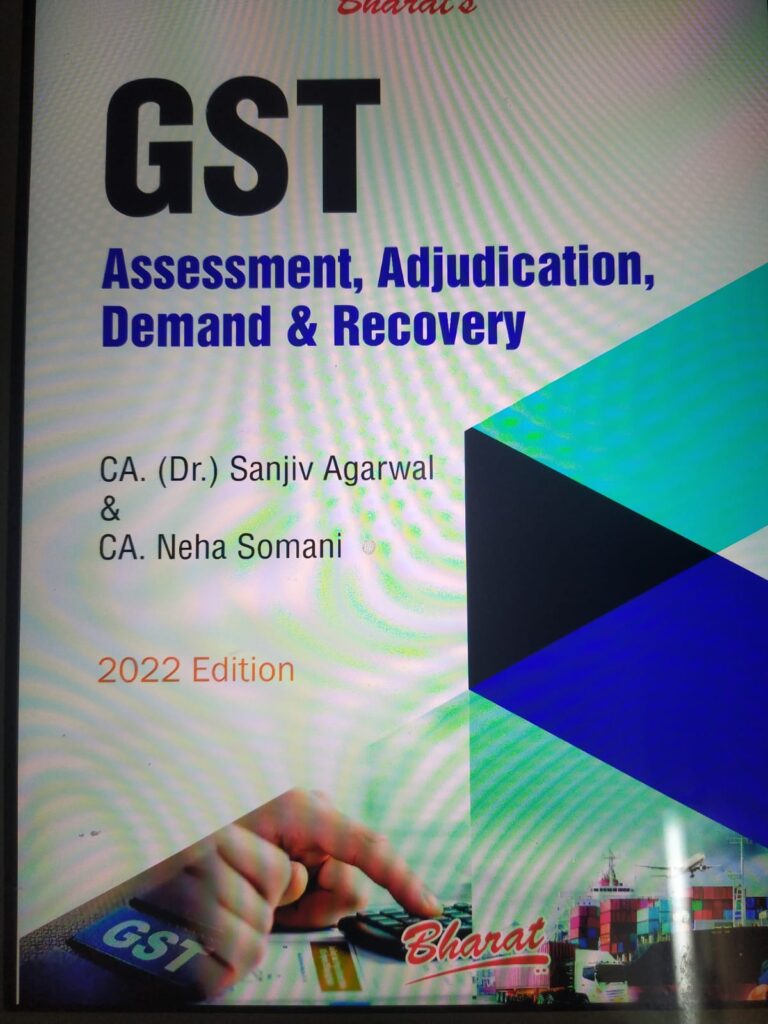 Book Title
"GST Assessment, Adjudication, Demand & Recovery"
Highlights of the books
Legal and illustrative commentary on assessment, adjudication, demand and recovery of GST
Easy to understand, comprehend and apply the legal provisions
Law explained by way of diagrams/flow charts
Backed by relevant judicial pronouncements on the subject
Authored by experienced and practicing professionals
Authored by CA. (Dr.) Sanjiv Agarwal & CA. Neha Somani
1st Edition, 2022
Availed at leading bookshops all over India or buy online. Price 895/-
---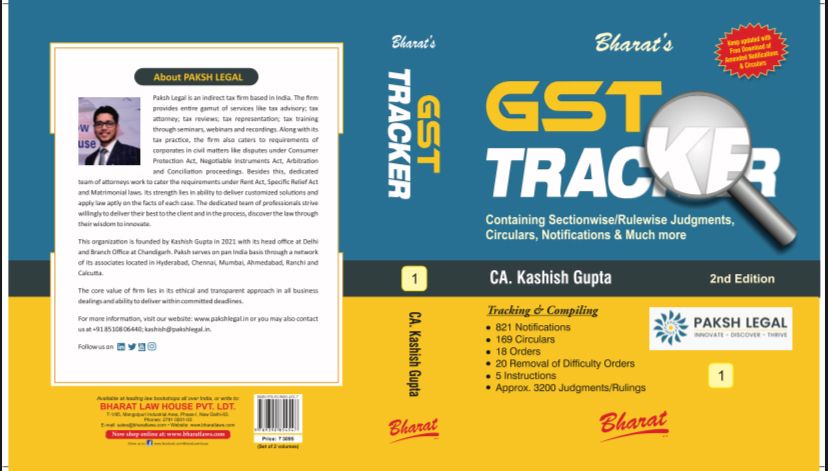 Book Title
GST TRACKER in Volume I and II
Highlight of the book
Containing Sectionwise /Rulewise Judgements, Circulars, Notifications & Much more
Tracking & Compiling
821 Notifications
169 Circulars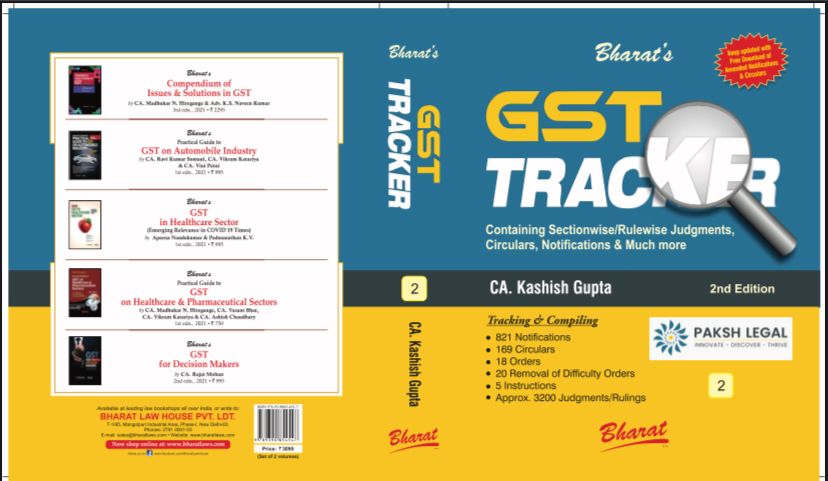 18 Orders
20 Removal of Difficulty Orders
5 instructions
6 . Approx. 3200 Judgments /Rulings
Authored by CA Kashish Gupta
2nd Edition
Available at a discounted of price Rs.2785/-
---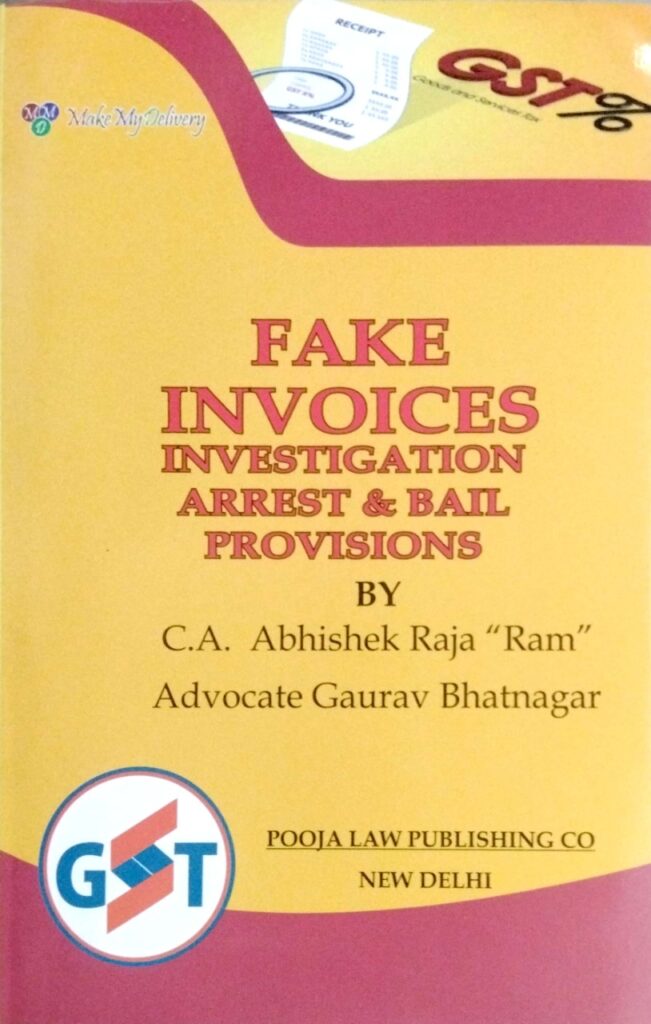 A book title – FAKE INVOICES, INVESTIGATION, ARREST & BAIL PROVISIONS
Authored by Abhishek Raja "Ram" & Advocate Gaurav Bhatnagar
Goods & Services Tax was implemented on 1st July'2017 and this law is still New & Young with teething problems in it. First there are compliance related issues and then Taxpayers & Tax Professionals are also dealing with Portal problems. Over the top we regularly hear news about arrest of people due to Fake Invoices. Numerous Notices have been issued till date to control this menace. The arrests have not only been restricted to Business owners but in some cases professionals are also arrested. The basic problem in getting bail is that in general Tax Professionals are expert in GST Laws whereas Lawyers
are expert in their own field (example CrPC, IPC etc). Therefore, this book has been written in an attempt to bridge the gap between these two. This book is an attempt to be a crossover book to give Tax Professionals an Idea about Bail Laws and for Lawyers a fair Idea of GST needed for Bail purposes.
Price = Rs.608/-
---
---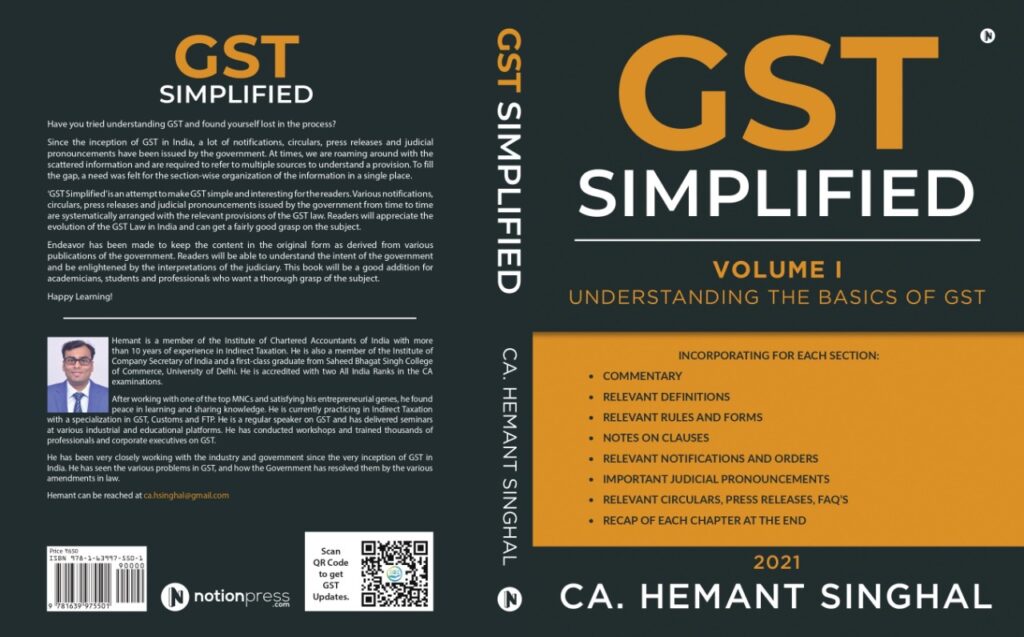 Link to buy book Click here
About book : 1) Topic wise arrangement of all Sections, Rules, Definitions, Notifications, Circulars, Press Releases, FAQ's, GST Forms, Notes on Clauses issued from implementation of GST till date.
Published on 7 September 2021
by CA. Hemant Singhal (Author) Price – Rs. 585/-
---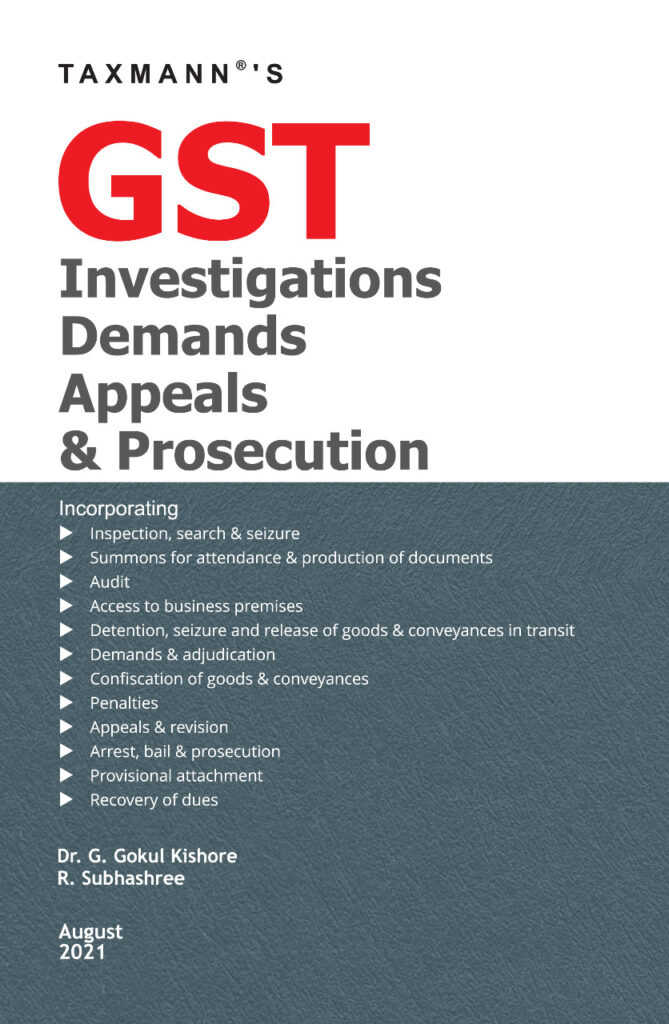 Book Title
GST Investigations Demands Appeals & Prosecution by G. Gokul Kishore R. Subhashree
Edition : August, 2021
The book aims to cover the past & emerging jurisprudence on the subject matter along with a lucid commentary on the statutory provisions under the GST Law relating to the following:
GST Inspection
GST Search
GST Seizure
R. Subhashree is an Advocate practising direct tax and indirect tax laws.
Dr. G. Gokul Kishore is an indirect tax expert with more than 25 years of experience.
---