The government is all set to bring a one-time settlement policy for over 44,000 defaulters of various state taxes, including Value Added Tax and Central Sales Tax.
According to information, the government is making a case to let off nearly 27,000 of the defaulters, who owe a very small amount to the government. The government will concentrate its energy on those whose default in taxes is of high value and will try and recover tax from them.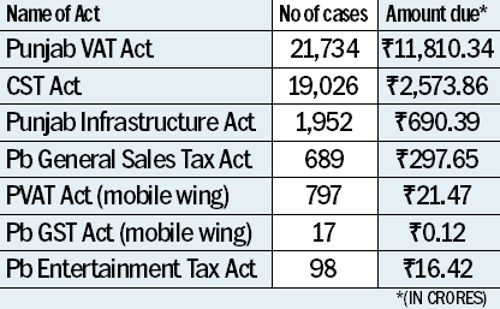 It is learnt that most of the tax defaulters are those who did not pay tax under the Punjab VAT Act, 2005 (21,734 defaulters owing Rs 11,810.34 crore as tax, interest and penalty). This is followed by defaulters under the Central Sales Tax Act (19,026 defaulters owing Rs 2,573.86 crore), the Punjab Infrastructure (Development and Regulation) Act (1,952 defaulters owing Rs 690.39 crore) and the Punjab General Sales Tax Act (689 defaulters owing Rs 297.65 crore).
Read more at : The Tribune